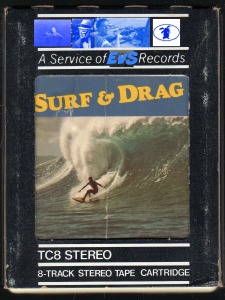 Welcome to another 8-track selection by yours truly. This time it will be a surf music theme exclusively!
I want to pay a homage to the surf bands of the early 1960's- the real 60's not the hippie dippy shit-  and maybe for some of our baby boomer readers take them back to when wearing a cool jacket and tie was just how it was, surf music was sexy music and required some talent not just electronic sampling and voice effects.
Also if your looking for "The Beach Boys" shove off. Sorry but the Beach Boys will never be surf music to me even if Dick Dale came to me and said, "Brian Wilson's not so bad, just forget about the him and the Chuck Manson thing". Frick those guys.
Track 1- The Fender IV– "Little Ollie"
My new number one favorite song from a band with a  track record of great music. Little Ollie is the faster version of Malibu Run or Malibu Run the slower version of Little Ollie……..

Track 2- The Tornados– Telstar
"Telstar" is a fairly famous song in itself (covered by many surf bands), probably more famous than the Tornados. This video though was actually done in "Scopitone" a video playing jukebox. Yeah sorry kids MTV wasn't the first.

Track 3- The Ventures– "Walk don't run"
The Ventures are one of the heavy weights of surf music and when they don't do their own stuff they cover all the cool stuff lesser known groups have done.

Track 4-Dick Dale and his Del-tones– Miserlou
When you hear Dick Dale's name inevitably Duane Eddy (or Link Wray) comes up as well . My problem with Duane is that he is more rockabilly than surf. But enough about Duane. Dick Dale and his Del-Tones are one of the more iconic surf music groups and pretty much synonymous with surf music. Miserlou was brought back into the limelight by Quintin Tarantino's movie "Pulp Fiction".

Track 5- The Surfaris– "Green Onions"
Another iconic song that most people have heard they just never knew the name of the song! Often covered by other bands. Wipe Out is the famous one but I needed something a little less mainstream from a very non mainstream music style.

Track 6- The Atlantics– "Bombora"
Arguably Australia's most successful surf group. Yes America, the Aussies were doing surf music back when too.

Track 7- The Lively Ones– Surf Rider
I almost feel guilty throwing this one in, its a no brainer and I should have tried for some more obscure stuff. But the influence of this group on modern surf as well as their peers is huge (especially the Surf Rider song).

Track 8- The Pyramids-"Penetration"

This was a hard one for me to pick. Really how in the hell does one pick from literally 100s of amazing songs, each one with it's own merit! Well its an 8 track not a collection that's how. This pick was for The Pyramids taking a dig at the Beatles by showing up in Beatles wigs on a show then throwing them off to reveal shaved heads! Also Penetration is another one of those iconic heavy hitters done by alot of bands, but these guys did it first!

Thanks again for tuning in cool cats! Be sure to check out "The Shrunken Head Lounge" an online surf radio show that I've become a real fan of lately. -Evil von Scary