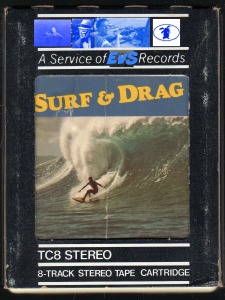 Was inspired to do another 8 track as follow up to previous "8 Track" articles on the site. This one will be surf music (modern) as opposed to the strictly 60s surf 8 track found here.
The finest looking bunch of Texans Ive seen in awhile next to the Butthole Surfers. Found these folks by chance beer ad and the frickin ad only played about 4 seconds of the song! Mrs Von Scary used her Shazam got me the info, went to Youtube thinking it was probably a really old obscure tune from the 60s. Turns out that it's more modern. They say they are influenced by Thai Funk from the 60s as well as other styles, I put this particular song solidly in melodic surf. Great band with a variety of sound. @khrungbin on Twitter.

Phantom Surfers for me were my introduction to modern surf music. They can come at you like a wrecking ball (They call my baby D.D.T.) and can take you away like a comfy old couch. Just the right blend of chic, surf, creepy 60s lounge, masks,nakedness and mayhem. Like dropping acid with David Lynch and Tarantino's in charge of the radio. Ladies and Ghouls…. The Phantom Surfers….

aka The Vice Barons (for you ugly Americans). Great surf band from Belgium.

Another great band who have really brought back surf to a wider audience. They've worked with Rob Zombie and really have their own spooky sound and image. Also been on Sponge Bob Square Pants.

Ok I kind of snuck in an oldie as played by a newer one. Luchadors playing surf music. Cool beyond measure.

Damned good surf music from the True North aka Canada. Name makes me hungry though (its scrambled eggs in Spanish).

7/ "I Walk Like Jayne Mansfield and I'm Blue" by 5,6,7,8's
This vid was seen on the movie Kill Bill, and yeah baby- the 5,6,7,8's are a real band from Japan. Also known for the crazy Whoo Hoo song.  For those who didn't know, Japan is one of the carriers of the torch of Surf Music. It never went out of style there.

Yeah its and not THE, Swedes dont need to be precise to be cool. Great band, fantastic talent (they also veer into electronica/house style music for those into that). Ive had these guys on another 8 track article so will pick a different song.

Thanks for tuning in folks. More to come. Cheers, Evil von Scary!